American Legion Riders (ALR), Tennessee
THE 2019 DEPARTMENT EXECUTIVE COMMITTEE RECOMMENDED APPROVAL OF THE FOLLOWING RESOLUTIONS AMENDING THE DEPARTMENT OF TENNESSEE AMERICAN LEGION RIDER CONSTITUTION AND BYLAWS
2019-01 THROUGH 2019-10 Department Executive Committee Recommended Approval with Modifications to 2019-01, 2019-04, 2019-05, and 2019-07 by adding the word "Rider" in the first Whereas clause following the word "Tennessee." Additionally 2019-05 Resolved clause Section 1, subparagraph a, was modified to remove actual amounts and reworded as follows: a. Must be the registered owner of a street legal motorcycle, a valid motorcycle endorsement or motorcycle learner's permit and motorcycle insurance equivalent or exceeds Tennessee's minimum requirement for bodily injury liability of one person injured in an accident and the Tennessee's maximum for all accident injuries, and property damage (limitations subject to change). Currently all states adjacent to Tennessee have the same or exceed Tennessee's minimums, except for Missouri and Kentucky. Riders registered in Kentucky or Missouri will need to increase their minimum to meet Tennessee insurance standard to become a member of the Tennessee American Legion Riders.
2019-11 THROUGH 2019-15

Department Executive Committee Recommended Approval with Modifications to 2019-12 by adding the word "

Rider

" in the first Whereas clause following the word "Tennessee." 2019-15 Resolved clause was modified to include Article VIII, Sections 3 and 4 as well as Bylaws Article VIII, Section 2 and Article XII Sections 3 & 4 - changing all references to read

twenty (20)days.
THE AMENDMENTS TO THE DEPARTMENT OF TENNESSEE AMERICAN LEGION RIDERS CONSTITUTION AND BYLAWS WILL GO BEFORE THE DEPARTMENT CONVENTION JUNE 2, 2019 FOR AFFIRMATION
PROPOSED AMENDED DEPARTMENT AMERICAN LEGION RIDERS CONSTITUTION AND BYLAWS
Members of the Legion Riders are first and foremost "current paid members' of The American Legion, American Legion Auxiliary, or Sons of The American Legion (SAL). All will abide with the edits of their respective American Legion, Department of Tennessee; or The American Legion Auxiliary, Department of Tennessee; or, the SAL Detachment Constitution and By-Laws regarding paying appropriate membership dues (Legion, Auxiliary, SAL) on time.
Expired members cannot be active members in a Post ALR. Membership in the Legion Riders will require membership dues paid current at all times. All will abide by the edits of the Department Legion Rider Constitution and By-Laws. The Legion Riders is not a motorcycle gang or club, but members of the Legion Family supporting the causes of The American Legion.
Legionnaires and SAL may wear their approved Legion Rider vest to all Legion business meetings provided the shoulder and back patches are in accordance with the provided guidance for design (vest and patches are not authorized for events requiring semi or formal dress). Legion Riders will be expected to wear their respective American Legion or SAL caps when attending Department Legion business functions (Mid-Winter Conference and Department Convention). Legion Rider Berets may be worn to District Meetings/Conventions, Post and Rider meetings. See page 84 the 2018 Emblem Sales Catalog for ALR Berets). Beret patch, page 87 Emblem Sales 2018 Catalog (Beret Legion Rider Mini Patch 2 3/8 x 2 3/4 inches). The Legion Rider Director at Post and Department Level are authorized to purchase and wear the "Riders Director" Cap Patch on his American Legion Cap (right side of cap only). The Rider Director may also wear the "Riders Director" patch on the left front of his Rider Vest.
The National Executive Committee (NEC) recently passed a resolution to recognize The American Legion Riders (ALR) as a Legion National Program (like Legion Boys State, Baseball, JROTC, Oratorical, Eagle Scouts, etc). This opened up the opportunity for Departments to further promote and to organize American Legion Riders (ALR). This implied the need for three things within the Department:
1. A Legion Rider Constitution & By-Laws;
2. An application for Legion Rider Post Charter; and
3. A Department of Tennessee Legion Post Rider Charter.
The application for a Post ALR charter, the ALR constitution and By-Laws and the ALR Post Charter are now available. American Legion Posts wishing to make their Legion Rider unit legitimate, may request from Department, or print a copy of the charter application from the below link. The American Legion Department of Tennessee Legion Rider Constitution and By-Laws can also be viewed and printed from the below link. It will be up to Post Commanders and their Legion Rider Post Director to complete the Charter Application and return to the Department for review and approval.
Approved applicants will receive an American Legion, Department of Tennessee "Legion Rider" Charter and will be expected to abide by the Department ALR Constitution and By-Laws. Those American Legion Posts that do not have a Legion Rider Charter, will not be authorized to organized or to support a Legion Rider unit.
Regarding the patches....go to page 87 of the 2018 Emblem Sales Catalog. If you do not have an Emblem Sales Catalog, try their website at http://emblem.legion.org. Emblem Sales website may not be in the same sequence as their catalog. Go to page 87 of their 2018 Emblem Sales Catalog. The "shoulder" patch will be the 3-line shoulder patch. That means the first line will be "Tennessee" placed on the patch above the word American. The bottom two lines below the word Riders will be the "Post No. ", and the third line will be the "location" of The American Legion Post (Knoxville, Selmer, Memphis, etc.) The shoulder patch will be 4" x 5.5". The "back" Rider Patch will also be the 3-line back. Same design as the shoulder patch, size 8.5" x 12".
An optional "upper" rocker, sized according to whether it is for the shoulder patch or back patch is authorized. However, only one of three terms can be placed on the upper rocker "East Tennessee" "Middle Tennessee" or "West Tennessee". The letters of the Rocker will be white, just like the letters on the patches. Rockers are optional. If you look at the picture below from on page 87 of the Emblem Sales Catalog, you can visualize the patches, if you add the three lines; Tennessee, Post No.___, and location. (Emblem Sales publishes a new catalog every year; therefore, Legion Rider items may be located on different pages as the catalog is updated..check out the catalog index).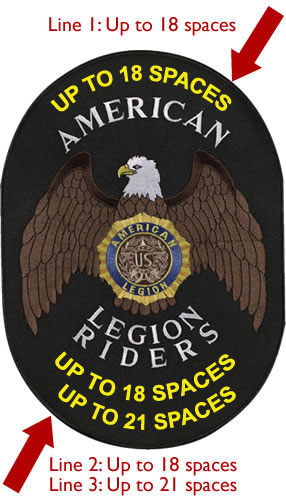 If an American Legion Posts has already began organizing a Legion Rider unit and already has a shoulder and back patch, they can submit that patch, or exact artwork with their application for Rider Charter. If the patch is not out of order, the sponsoring American Legion Post will be authorized to allow their Rider unit to maintain that particular patch for "one" year (grandfathered) from the day the charter is issued, afterward shoulder and back patches will be worn according to Department directives. American Legion Posts without ALR Patches, will only be authorized the patches as described.
APPLICATION FOR POST ALR CHARTER
​ALR OFFICER 2019 NOTIFICATION FORM
Yearly Rider ID Cards are availible, $3. Please send a request with check to the Department. Include Rider's full name, membership number, address, phone number, email and title if the Rider is an Officer.